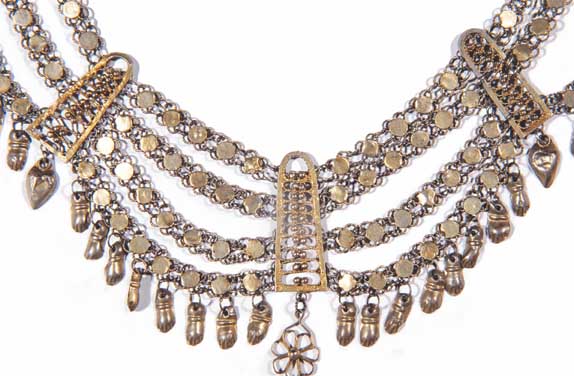 History of Turkish and Anatolian Jewelry
Around their necks, in their ears and on their fingers, Anatolian women's messages and expectations are conveyed in the jewelry that enhances their beauty. T he wearing of jewelry is a tradition going back to the earliest periods of history. The jewelry created the many belief systems of the past cultures of Anatolia, cradle of civilizations, exhibits a dazzling variety. The use of jewelry in Anatolia dates back to the Neolithic (8000-5500 B.C.) We can follow this tradition in descriptions and archaeological findings from the oldest cultures, such as the Hittite, Assyrian, Urartu, Lydian, Phrygian.
Jewelry made from precious metals has been found especially in graves from civilizations dating to periods in which it was customary to bury the dead together with their possessions. Among them, women's jewelry in particular constitutes a rich and varied group. Important centers of jewelry making were established in Anatolia in this period when jewelry of superior workmanship, especially gold jewelry, was produced. Jewelry in which religious motifs were employed for protection again spells, malice and the evil eye has also been found in excavations. Developing relations among the various civilizations and interaction between the cultures of East and West ensured that new designs were produced based on these older models.
Silver jewelry is more often observed among the traditional people of Anatolia. This jewelry, which is worn from birth to death and sometimes passed down from generation to generation, has been the material and spiritual mainstay especially of women over the centuries. From head to toe, woman lived every day decked in her jewelry, expressing her status in society through the objects of adornment she wore on her body. For a woman, such metal jewelry is at the same time an investment. When a bais born, the relatives, friends and acquaintances that come to congratulate the new mother bring various pieces of jewelry, gold coins and gold 'Maasallah' amulets, which they fasten to the baby's head, clothes and pillow. The husband of the new mother also buys a piece of jewelry to give her as a gift. Gifts of jewelry are given to a boy who is being circumcised, and jewelry of various kinds is brought as well to a prospective bride at her engagement party or a bride at her wedding and pinned on her during the ceremony. This tradition, which began in the villages, continues in even the most modern settings today. Gold and silver jewelry produced a variety of centuries-old techniques such as filigree, relief, embossing, inlaying or using precious stones continues to fill the windows of jewelers' shops.
In Anatolia today jewelry occupies an important place in social life from birth to death. Traditional pieces of jewelry convey various messages to one's milieu. You can tell from the bracelets on her wrist whether a young girl is engaged or newly married. Likewise from the rings on her fingers. Many pieces of jewelry are also laden with sacred beliefs. There is, for example, a ring worn with conviction women who want to get pregnant. Amulets are worn around the neck as lucky charms. Among the headpieces, the metal 'tomakan' is believed the Turkmens to protect a woman against lightning. It is also believed that silver jewelry that jangles as one walks and sways will protect a woman working in the fields or vineyards from snakes and scorpions or even, according to an ancient shamanistic belief, from evil spirits. The decorative motifs on jewelry have different meanings. Motifs such as the Hand of Fatima, the magic triangle, and the seal of Solomon were created under the influence of past beliefs. As talismans, these protective pieces of jewelry also enhance a woman's beauty on her forehead, face, ears and hair, as well as on her neck and breast, at her waist and belly, and on her wrists, arms and fingers.
Reference: Sabiha Tansug, Servet Dilber / SKYLIFE
The court records dating from 1526 indicate that there were 90 jewelry artizans in the service of the Sultan. The art of Ottoman jewelry making reached its peak in the 16th century, with gold and precious stones applied not only to wearable jewelry but also to articles of everyday objects such as bookcovers, utencils, weapons etc. using a variety of materials such as leather, ivory, glass, bone, mother-of-pearl, horn, wood and metals such as zinc.
Ottoman jewelry had to be ornate and extremely colourful. Jewellers used a variety of metals in order to fashion a piece of jewelry, which is the main difference from European jewelry where the same metal is repeated. Another feature of Ottoman jewelry is that instead of strict symmetry, the nature of the stone and metal are given prominence. For instance, the natural characteristics of a ruand emerald reflect the Ottoman feature of jewelry. Jewelry was produced in the palace or in workshops elsewhere. Ottoman jewelry was designed using natural motifs which reflected the prevailing tastes. As the types of stones and the mines increased during the expansion of the Empire, jewelry production increased also. From the 18th century onwards, Western trends led to an exaggerated increase in the size of jewelry.
Aigrettes were used both the Sultan and notable women of the Harem. It was the symbol of power because of its shape and appearance. It is known that Sultans gave the valuable aigrettes as presents or as awards to certain individuals. Jewelled aigrettes also enhanced the heads of horses during equestrian ceremonies. They attracted attention with their simple floral or drop designs and reflected the brightness of the precious gems on them. In later periods, the aigrettes were huge. In portraits the sultans usually wore one aigrette but sometimes they wore three. Women wore more than one aigrette but sometimes they put one on their forehead and another on the back of their head.
Pins were important pieces of jewelry in women's head ornaments. These ornaments were pinned to crests or put directly on the hair or sometimes they were put on the brooches of dresses. The "Titrek" or "Zenberekli" are typical Ottoman pins which dangle with each move of the body. Motifs from nature such as the tulip, rose, violet, floral bouquet, bird, butterfly and bee are mostly used in this type of jewelry. Jewelry with flower motifs was used on the hair.
Earrings have been widely used for centuries. They have many shapes from small pearl drops to long dangling ones. They have an important place in Turkish jewelry because they emphasized the beauty of the hairstyle and dress of Ottoman women. Earrings are classified according to how they dangle: the double dangling ones "pay-i çift" consist of three drops called the "üç ayakli", (three feet).
The simple gold bangles are not only considered to be jewelry but are bought as an investment to be converted into cash their owners whenever needed. The women of the Ottoman Palace bought these bracelets from time to time. There are many other styles of bracelets which women favoured such as the twisted type. Signet rings encrusted with precious gems like rubies, emeralds and semi-precious germs like carnelian, amythest and jade were favoured Ottoman women. They wore them on one or more fingers. Solitares and rose shaped diamond rings and 'divanhane çivisi' which has one more diamond layer around the rose shaped ring are Ottoman ring styles. The "Dinahane çivisi" motif is formed continual rows of diamonds around one large diamond at the top. This design was used in bracelets and necklaces. It was used in silver and gold rings, too. They are depicted in the works of the late 18th and early 19th century famous painters Konstantin Kapidagli and Antoine de Favray.
Chokers and long necklaces were used Ottoman ladies. Gold coins were strung on long gold or silver chains or on a string of pearls. Such necklaces were worn rich women. The 18th century British Ambassador in Istanbul wrote that Hafize Sultan, the wife of Sultan Mustafa II, wore a string of pearls down to her knees with a diamond as big as a turkey egg and two strings of emeralds. .
Jewelled golden, silver, crystal, mother-of-pearl or ivory belts were the essential accessories of the Ottoman woman. Belt buckles with floral or geometric motifs decorated with diamonds, rubies, turquoise, and emeralds were sometimes worn at the waist and other times over the hips.
Reference: Aygun Ulgen/Osmanli vol. 11, Yeni Turkiye, 1999; Newspot/BYEGM.
SILVER ARTWORK AND JEWELRY
Most of the silverware in the Topkapi Palace collection was made palace silversmiths from the 16th century onwards. The many silversmiths, goldsmiths and jewelers at the palace were members of the palace guild of craftsmen, the ehl-i hiref. They worked under the auspices of the chief treasurer. Palace records and inventories show that the pieces in the collection today are only a fraction of what once existed. The reason for this depletion is that when the state was pressed for money, either in times of war or to meet the expenses of accessions and other celebrations, resort would be made to melting down some of the silver and gold ware in the treasury for minting coins.
The earliest of all the silver in the palace treasury are a circular tray and bowl bearing the monogram of Sultan Süleyman the Magnificent (1520-1566). The collection includes sets of ewers and basins, rose water sprinklers, censers, writing boxes, candlesticks, candle snuffers, food trays, coffee trays, filigree coffee cup, a child's rattle and water cup, dessert sets, sherbet jugs, bowls, braziers, hand and wall mirrors, Koran cases encrusted with diamonds, lanterns, dishes of many shapes and sizes, jewel boxes, and cutlery.
The Turkish love of flowers is reflected in the decorative arts, and silverware was adorned with similar motifs. On early pieces dating from the 16th century we find scrolling branches, rumi leaves and blossoms known as hatayi typical of the period, and on later pieces roses, carnations, tulips, narcissi and other garden flowers, cypresses and pomegranates. From the 17th century onwards Western influence gradually became apparent in Ottoman art, first in floral bouquets and towards the end of the 18th century in the large curving leaves, roses in baskets, garlands, bows and vertical fluting typical of what is called Turkish rococo style. Characteristic of the 19th century are small flowers on a matted ground, although the classical period carnations and pomegranates (depicted cracking open) are also still found. Another frequent motif is fluted lozenges over a basketwork ground. Repoussé, openwork, engraving and filigree were the most usual techniques of silver ornament.
Reference: Göksen Sonat / Skylife