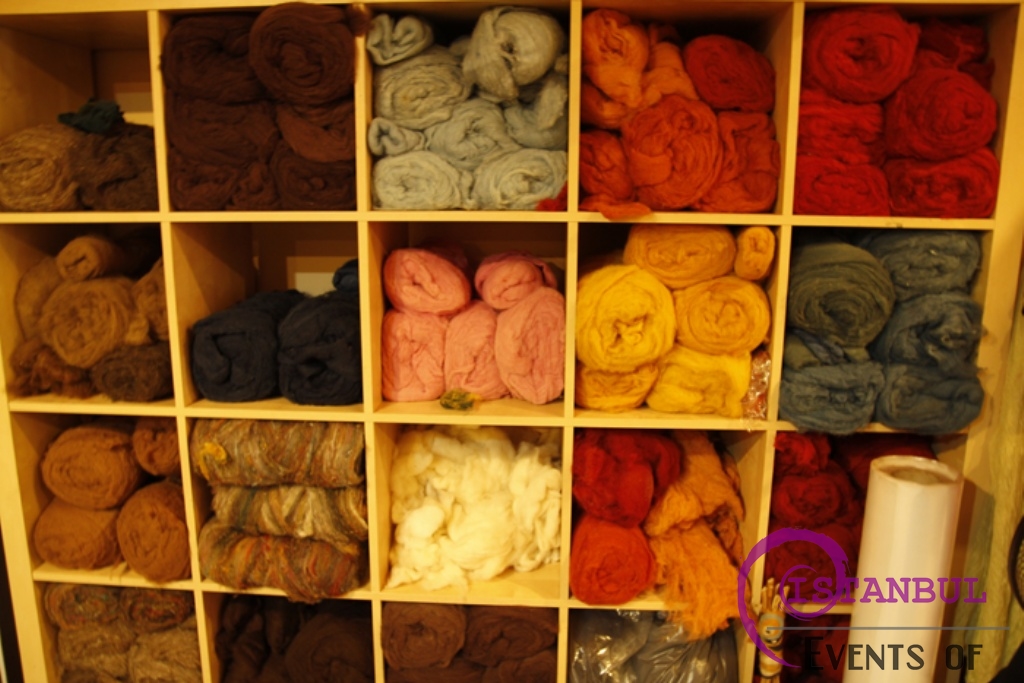 History of Felts in Turkey
Felts have not been well preserved in Turkey as they were considered of little cultural significance. But the writings of the seventeenth-century Turkish travel writer Evliya Celebi record many practical uses for felt. In the palace at Bitlis, lemons and oranges were preserved in winter wrapping them in felt; and, in Amasya, near Tokat, felt was used as a strainer for mulberry, grape, and quince juices. In Erzerum, where winters were long and houses built of stone, felt and canvas treated with beeswax served as insulation under the roof. In Bursa, during the month of July, the snow sellers brought ice wrapped in felt to the cities on mules. They also transported ice in felt bags for the court kitchens, harem, and Grand Vizier in Istanbul. Evliya also describes the clothing of the men making canons in the arsenal, who wore felt clothing to save their bodies from the "blazes of hell."
Natural Dyes that we use in our workshop in Sultanahmet
Mystical craft guilds, known as ahi, in Ottoman Turkey oversaw the production and quality of felt and the behavior of its makers. In Istanbul alone, the feltmakers' guild had 400 workshops and more than 1,000 members. Of guild regulations, we know only that the apprentices (cirak) were not permitted to smoke or sit cross-legged in the presence of a master; masters were not permitted to steal apprentices from colleagues' workshops; and masters were to present garments to their journeymen during important religious feasts. When an apprentice was ready to open his own shop, the masters were invited to a juried event, at which the apprentice demonstrated the making of a shepherd's coat, prepared a meal for the judges, and gave a bar of olive oil soap to all in attendance. The Surname (Book of Festivities) of Murad Ill, a manuscript of text and miniature paintings, commemorates the circumcision of Crown Prince Mehmet in Istanbul in 1582. The imperial celebration lasted for fifty two days and nights and included a procession of the Istanbul guilds. The manuscript states, "The felt makers were dressed in bizarre and fearsome costumes with robes and turbans made (made both inside and out) of colored felt. They also pulled behind them a figure of a lion fashioned of felt."
Many Turkish baths (hamamlar) had designated areas dedicated to felt production, as their extreme heat and moisture provided an ideal environment for feltmaking, especially during the winter months. The craftsman placed his felt on raised platforms and exerted pressure pounding his chest on the fleece in order to achieve the necessary shrinkage. The last hamamlar that produced felt were in Konya and Urfa; the last quarter of the twentieth century, many hand-felting processes were replaced machines. Today, in the wool bazaar of Konya, fleece is washed in vast pools of water, aided a mechanized, rake-like fork that agitates the fibers, before they are rinsed and hung to dry. Carding—the aligning and separating of fibers—was originally done hand, but is now accomplished a machine with large steel teeth, that combs the fibers as they are fed through.
In a hybrid of the two methods of patterning felt previously mentioned, Anatolian craftsmen use partially felted fabric of varying colors called "pre-felt" to cut the patterns that form the decorative elements of the carpet, resulting in a more clearly defined design than ala khiz. Once the pre-felt elements are laid in position on the reed mat, they are covered evenly with the background fleece using a forked tool of cherry wood called a çubuk . Additional layers of fleece follow, each sprinkled with water through a long-fibered straw brush before being rolled in the reed mat, wrapped in plastic, and sent to a mechanical "kicking" machine for hardening, the first stage of the shrinkage process. Here it is turned and pounded for three hours, or "kicked" the feltmakers, who rhythmically roll the felt forward with their right foot and backward with their left, hands on their knees for pressure. Upon completion, the pre-felt patterns are firmly felted to the fleece of the background.
Next, the rug is unrolled, the edges are trimmed, and the pattern is adjusted before it is placed in a steaming machine for the fulling. The rug is steamed, turned, and compressed, with olive oil soap used as a sizing agent. Every twenty minutes, the rug is removed and re-rolled both inside out and back to front to ensure even felting. This process continues for six hours, which causes shrinkage of forty percent and makes the felt impervious to moisture. While it is a dwindling tradition, feltmaking workshops in Konyo, Afyon, Tire, Balikesir, Urfa, and Mardin still produce shepherd's cloaks and carpets.
Our Felt Making artists for workshops and Classes in Istanbul
"The last remaining felt makers are to be found in such Turkish provinces as Afyon, Sanliurfa, Konya, Balikesir, Izmir, Kars and Erzurum. One of their most interesting products is the stiff felt cloak known as kepenek worn shepherds. These distinctive garments protect the wearer from heat in summer and from cold and wet in winter. Indoors, plain felt blankets made of white wool are spread over cushions for sitting on in winter, and felt mats are laid over both seats and beds. Colourfully embroidered felt saddle cloths are spread beneath horses saddles to soak up the sweat. Felt was once an indispensable part of daily life, also used to make saddle bags, shoes, headgear, mats, prayer rugs, and many other garments and household objects in various colors. In the eastern province of Agri you can still see men wearing the traditional kullik, a conical brown or white felt cap made from lamb's wool. .
In the neighboring province of Erzurum similar red caps are worn in the villages, and in the northwestern province of Kirklareli you will come across men wearing maroon felt fezzes. In Hakkâri in southeast Turkey people wear slippers known as refik, harik or herik, sewn from layers of felt and wool. In the villages of Trabzon elderly women wear fez-like caps made of dark red felt. Perhaps the most famous felt garments of all are the tall conical caps called sikke worn the Mevlevi dervishes, which are made in the city of Konya Mehmet Girgiç, and sold not only in Turkey, but all over the world."
(http://www.turkishculture.org/fabrics-and-patterns/felt-107.htm)