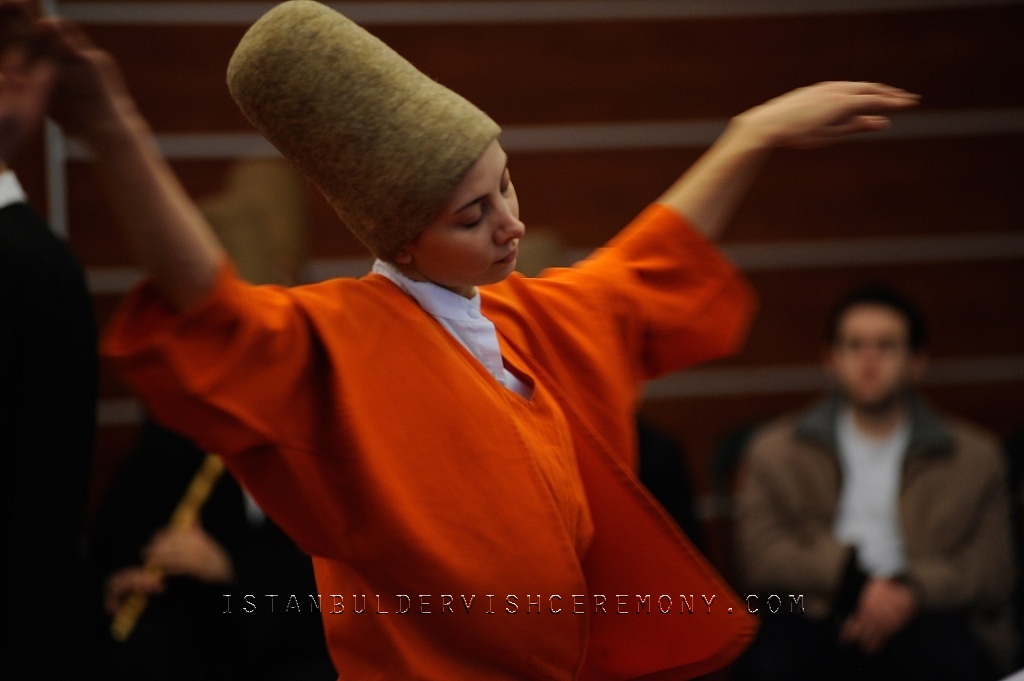 Where to Experience an Authentic Whirling Dervishes Ceremony in Istanbul
Looking for the best Whirling Dervish show in Istanbul? Here are my recommendations for where to see an authentic Mevlevi Sema ritual, and which shows you should avoid.
After sitting in on many Zikr rituals in Georgia's Pankisi Valley and visiting several tekkes in North Macedonia, observing a Mevlevi Sema ceremony – AKA the Whirling Dervishes – was at the top of my wish-list for Istanbul.
People told me that it was impossible to find an 'authentic' ceremony – that the Whirling Dervishes have become completely commercialised and performances these days are done purely for the pleasure of tourists.
After a ton of research, I found what promised to be an authentic Sufi ceremony in Istanbul. My expectations were very high, and in the end it did not disappoint.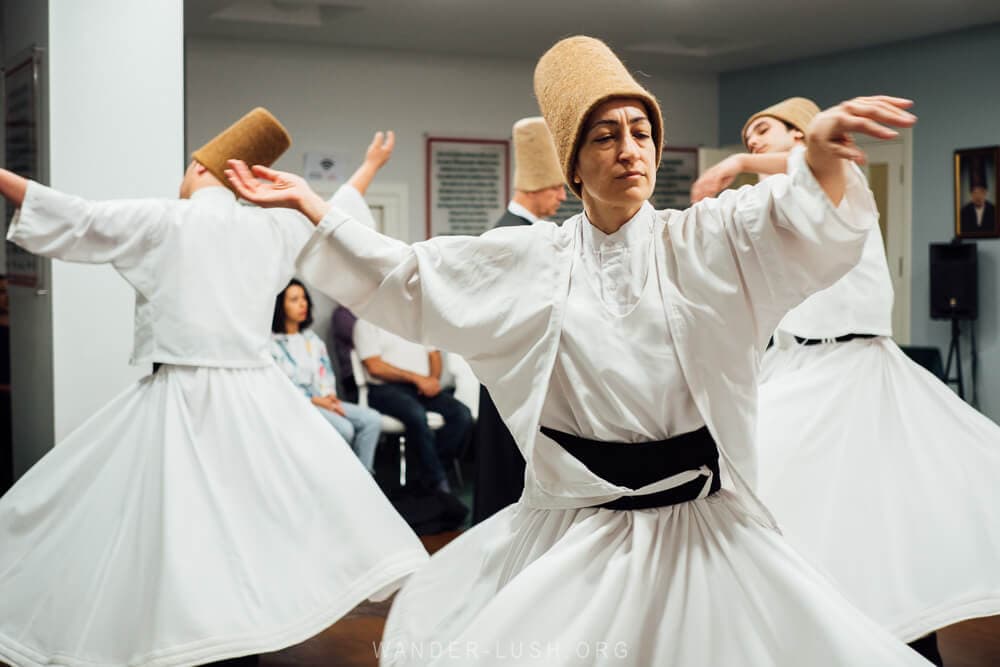 Held in a small mosque in a neighbourhood that is well and truly off the tourist trail, this particular ceremony has a very unique feel. Even though I needed to buy a ticket, it felt like I was being welcomed into a private gathering rather than attending a tourist spectacle.
There are lots of things that set this particular ceremony apart, but the main difference for me was the congregation and their genuinely welcoming attitude towards outsiders.
For comparison's sake, I also attended the most 'touristy' Whirling Dervish show in Istanbul, HodjaPasha. While I enjoyed it as well, it was a completely different experience and more in-line with the commercial events I had been warned about.
In this guide, I'll show you where to see the Whirling Dervishes in Istanbul and share my experiences.
What to expect from a Whirling Dervish ceremony
The Whirling Dervishes, or more accurately the Mevlevi, are a Sufi order. The sect was founded in 1273 in the Turkish city of Konya, south of Ankara.
The 'whirling' ceremony that the Mevlevi are known for is a ritual designed to bring participants closer to God. Known as the Mevlevi Sema ceremony, it sees a group of five faithful members of the congregation spin rhythmically in circles to the tune of melodic hymns performed by a live band. It might look simple, but whirling takes great skill, patience, and years of training to perfect.
Every movement is done with precision and is full of symbolism. According to UNESCO:
"The stamping of the feet symbolises crushing the boundless insatiable desires of the ego underfoot… Holding one's arms out to the side is the need for ultimate perfection… The right hand held up and the left hand down symbolises blessing from God received with the right hand while turning away from everyone else and distributing these blessings with the left hand."
UNESCO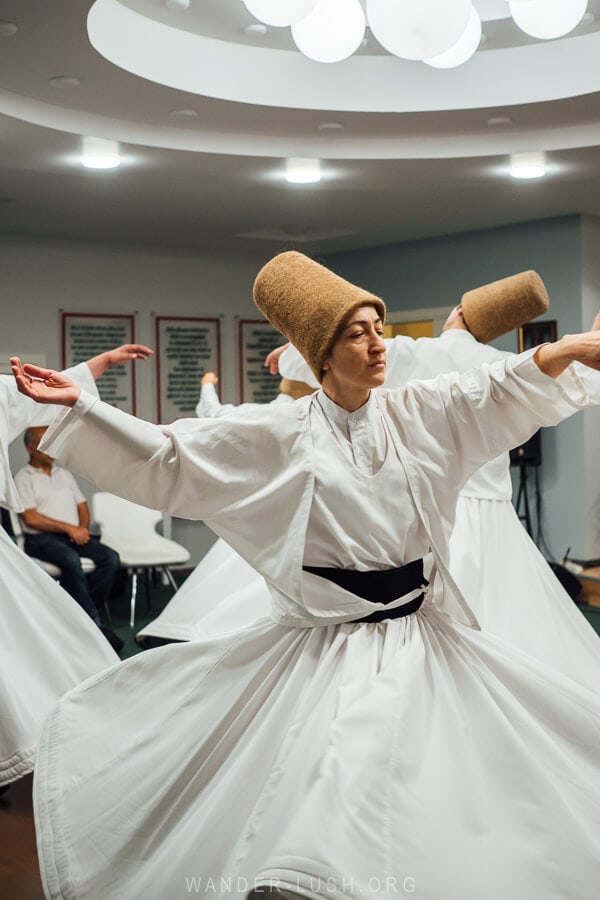 Ceremonies traditionally take place in a Mevlevihane, a voluminous hall designed specifically for the Whirling Dervishes. In preparation, a red sheepskin representing birth is laid out on the eastern side of the stage.
The Sema begins with a eulogy to the Prophet Mohammed (naat-i serif) and a ney flute solo. The Dervishes kneel on stage, dressed in long cloaks that symbolise the grave and tall hats that mirror gravestones. When the time comes, they discard their cloaks to reveal white, flowing robes and instructed by the Head Dervish (Sheikh), move into place for the Circling of Veled, which represents the resurrection of the dead.
The 'whirling' part is divided into four segments called Selam. At the beginning of each Selam, the Dervishes take turns to approach the Sheikh with arms folded across their chest, then start spinning, gradually gaining pace and moving their arms to an outstretched position.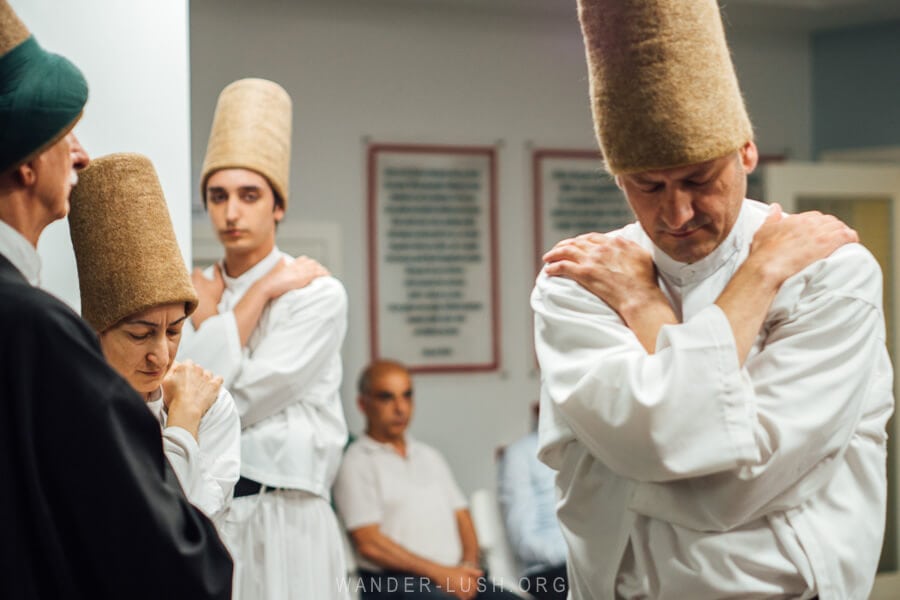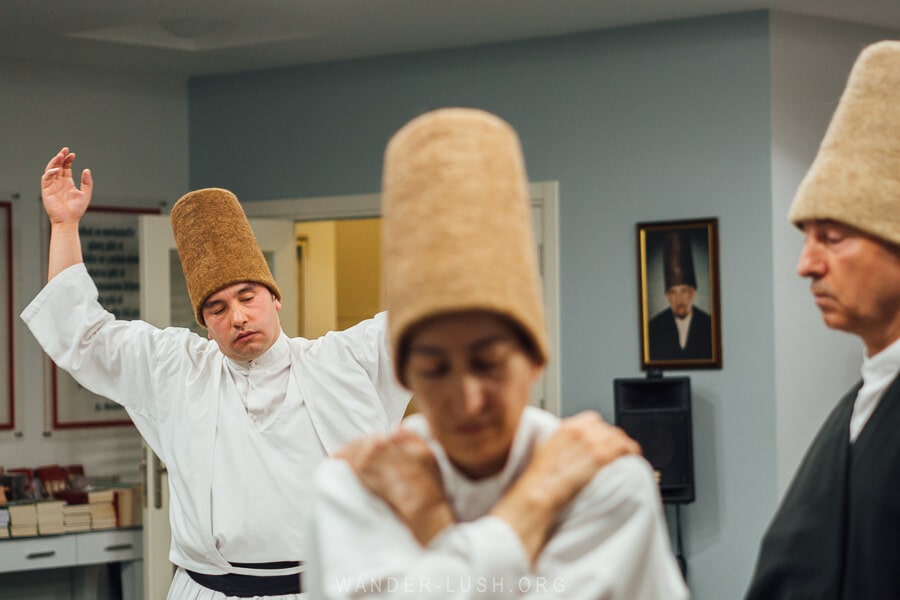 Throughout the Sema, musicians and singers perform different hymns and compositions based on the works of Rumi. In my experience, it's a deep, very moving experience that completely captivates you and inspires great reverence.
An authentic Whirling Dervishes ceremony in Istanbul: The Foundation.
In 1925, Turkey's Mevlevihane were closed down and the community went underground. The Foundation of Mevlana, is one of many organisations established during the 1990s to reinvigorate the Sema and its spiritual significance.
While most Whirling Dervish ceremonies have been abridged and adjusted to be more palatable to tourists, seeks to restore a traditional context and meaning to the ritual. They bring male and female Dervishes together, which is quite unusual.
The congregation is primarily made up of young people, and they are very proactive in introducing the next generation to Mevlevi beliefs. They have even produced four studio albums!
In line with this philosophy, has generously opened their doors to tourists who want to observe their weekly Sema ceremony. Make no mistake: This is a 'real' ritual that takes place regardless of whether tourists are there to watch or not.
To preserve the ambiance, they only save a handful of seats for visitors, with the majority of audience members being part of the congregation.
The Sema takes place on Thursday evenings at 8.30pm. Rather than a Whirling Dervishes show, the evening is described as a 'Spiritual discourse', with Zikr chanting, hymns, and a question and answer session.
We attended the Sema on a Thursday evening in June. We arrived in the local neighbourhood early to make sure we could find the address – when we did get lost, a man appeared and ushered us down a nondescript alleyway to the door of the centre. He knew exactly what we were looking for.
Once inside, we were greeted. We removed our shoes and took our seats, two of six chairs reserved for visitors that night.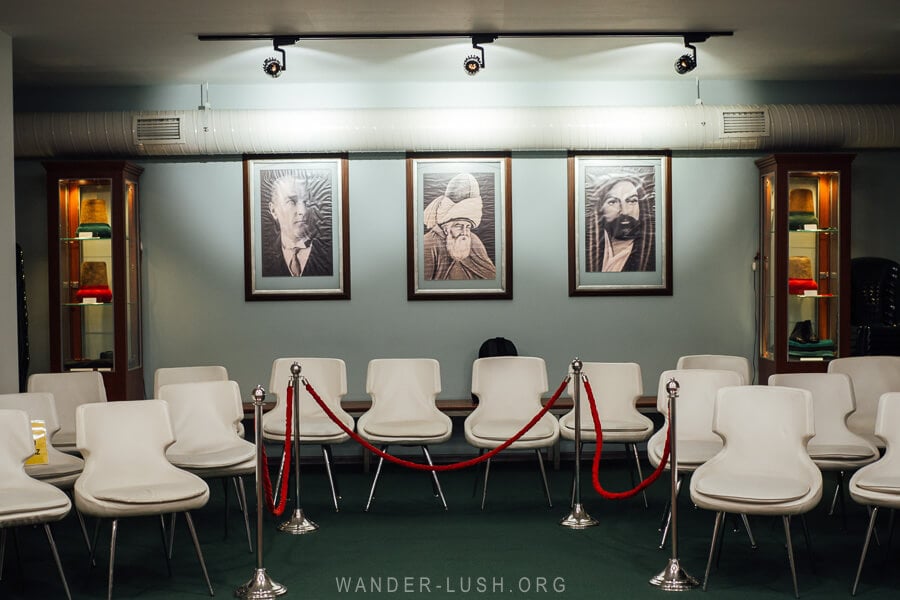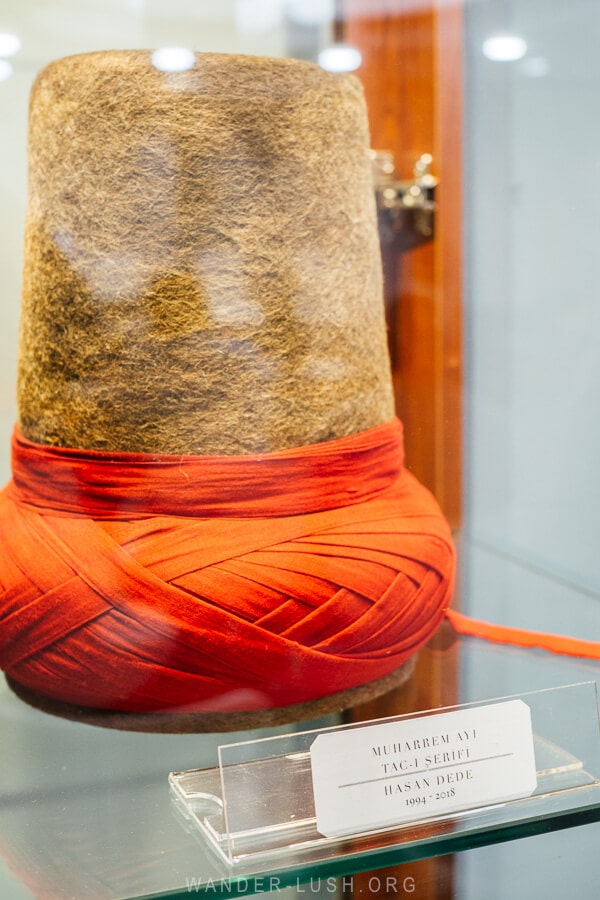 There were already more than a dozen people gathered in the small hall – mainly young women – sitting cross-legged and watching a video of their spiritual leader. Of course we were more than happy to sit back and observe. She gave us earphones and a YouTube link so we could listen to the broadcast in English.
As prayers finished, the women who had been sitting and listening rose and went backstage. They would soon reappear dressed in robes and hats – most of them were part of the ensemble, and one young woman turned out to be one of the Whirling Dervishes.
The ceremony began with a Zikr, which involves the recital of hymns. It was a very gentle, beautiful way to start the evening. Gradually it turned into a rapturous chant. As the Zikr concluded, two women came around and offered everyone hot and cold snacks and bottled water.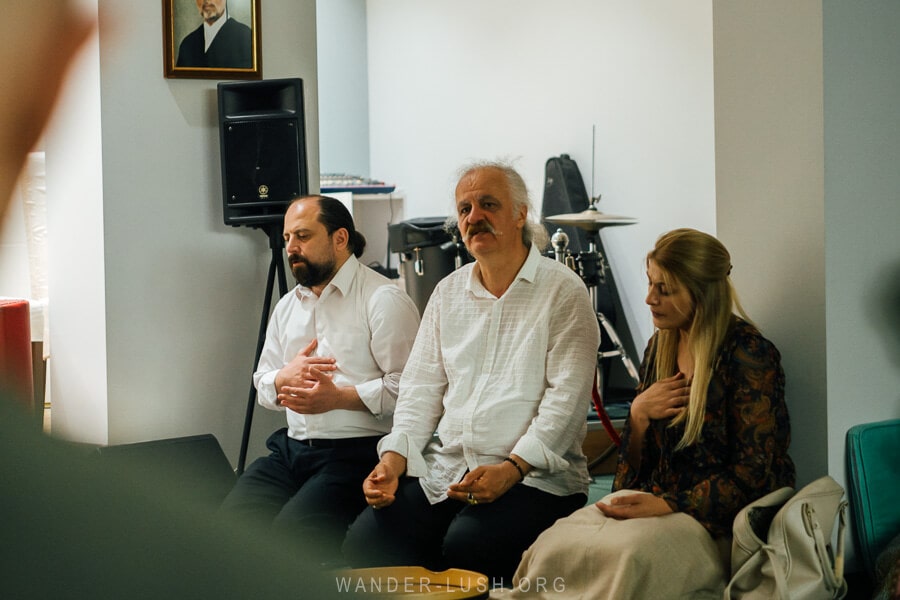 Soon, a 13-piece band came onto the stage and played a few Sufi pieces. Then the Sheikh and the five Whirling Dervishes, two of whom were women, made their entrance.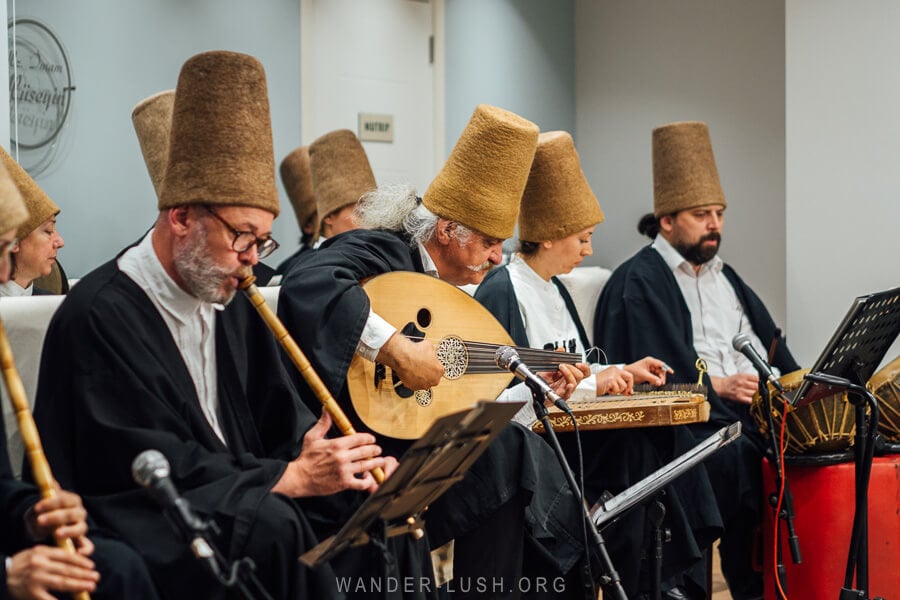 All the elements of a traditional ceremony, including the laying out of the red sheep's skin and the removal of the cloaks, were observed with great reverence.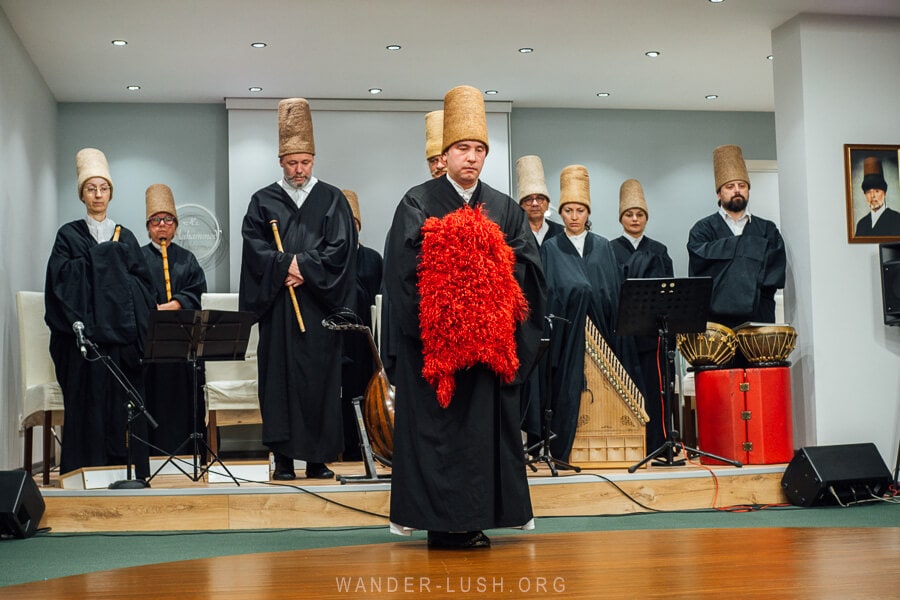 During the ritual, we were free to move around the room as we pleased. Everyone, including members of the congregation who were sitting in the audience, was taking photos and filming, so I felt comfortable doing the same.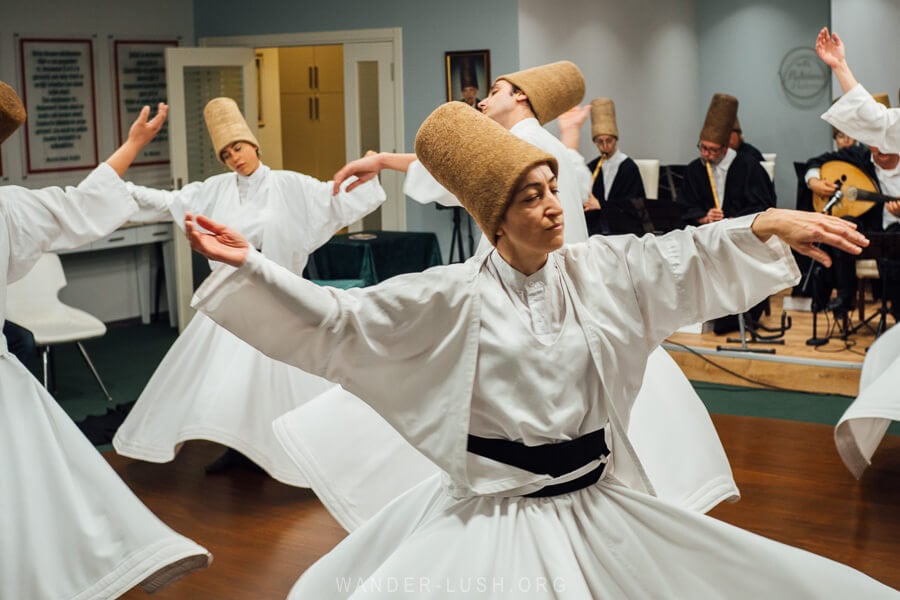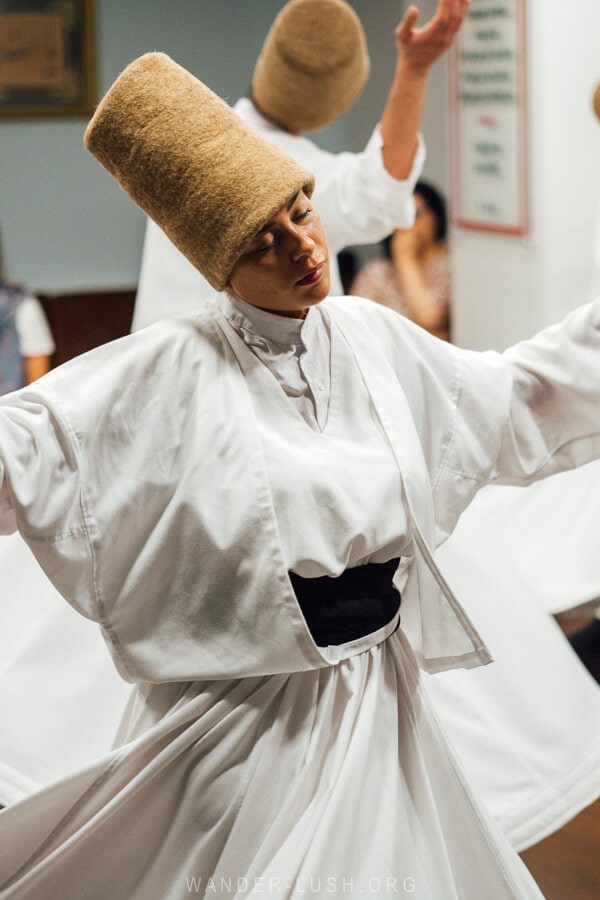 The four parts of the Sema were more drawn-out than I had expected, and the whirling lasted for well over an hour. After the ceremony finished, it took another half hour for the room to empty out – everyone was busy chatting, and we were invited to join a circle with some familiar faces from the ensemble.
Several people asked us questions about where we were from and if we had enjoyed the experience. As we got ready to leave, one woman insisted we come back again next week 'for free'. Then she gifted us a souvenir CD.
I was left with an overwhelming feeling that people were completely genuine and grateful to us for having attended the Sema ceremony. This was completely unexpected and heart-warming.
It's an amazing feeling to be invited into someone else's world – a totally foreign world – for a night, and to leave feeling as if those strangers had embraced you. They succeeded in their mission, and whatever curiosity I had about the Mevlevi had increased ten-fold. That night in Istanbul was truly one of my most memorable travel experiences to date.
HOW TO BUY TICKETS FOR THE REAL WHIRLING DERVISHES CEREMONY IN THE MONASTERY
A small number of places are set aside for the Thursday night performance, which takes place every week. Tickets are sold through Les Arts Turcs and currently cost 35 Euro for an adult.
We purchased our tickets online through the website and received confirmation and detailed instructions via email.
THINGS TO KNOW BEFORE YOU GO
Because this ceremony is held in a mosque, there is a particular dress code to follow: Visitors should wear long sleeves and long pants or a flowing skirt. You do not need to cover your hair, but you do need to remove your shoes at the door.
Photography (without flash) and filming are permitted, as long as you take care not to disturb the Dervishes or other audience members.
Other places to see the Whirling Dervishes in Istanbul
HODJAPASHA
This popular Whirling Dervish show is held every night of the week inside the Hoca Pasa Mosque in Sirkeci, close to the tourist hub of Eminonu. This was the first Dervish ceremony I attended and my first experience of the ritual.
The set-up is a typical stage show with bandstand seating around a circular stage. Seats are assigned at the time of booking, but if you reserve a ticket online, you need to exchange it for a paper ticket before you queue to enter (we got caught out on this).
The show starts at 7pm with preamble until the Dervishes come on stage at 7.30pm. This leaves about 20 minutes for the Sema. Five men perform the ritual, accompanied by a live six-piece band.
The actual performance is beautiful and some context is provided with short English explanations on projector screens. There is also an extensive exhibition about the Dervishes in the waiting area that you can view before the show starts.
Photography and videography are not allowed.
Tickets for HodjaPasha can be purchased online from here (Be sure to buy tickets for the Whirling Dervishes Show rather than the Turkish Dance Show.)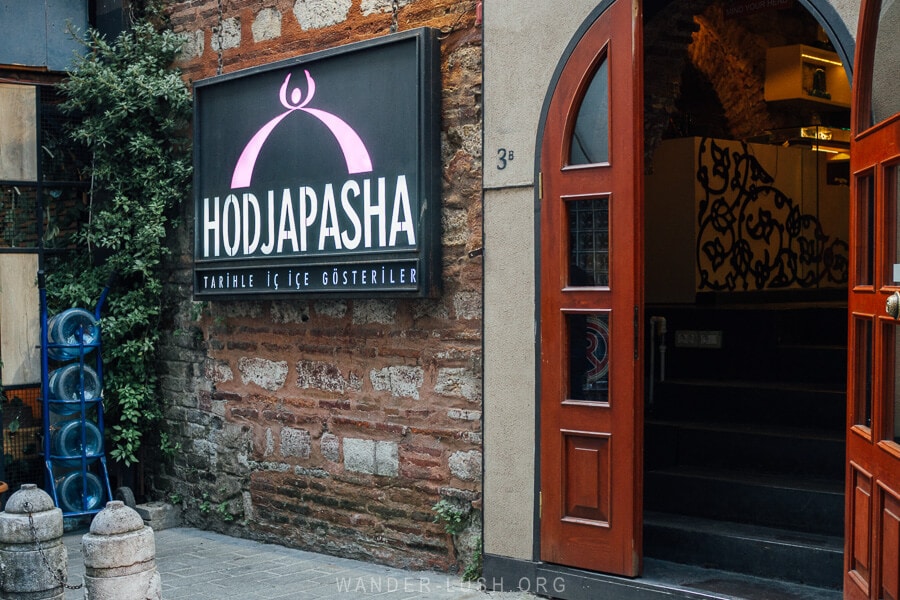 GALATA MEVLEVI MUSEUM
This museum-house is well worth a visit if you want to learn more about the Mevlevi order. It's a peaceful oasis not far from the Galata Tower, with a lovely cemetery garden, a Mevlevi hall, and a series of displays about the Sufi sect. ( Temporaly no ceremony held )
SIRKECI TRAIN STATION
Also facilitated by Les Arts Turcs, this Whirling Dervish ceremony at the historic Sirkeci Train Station (home of the old Orient Express) was recommended to me by a friend.
Normally performances are held every Wednesday, Saturday and Sunday evening, and cost 20 Euro per adult.
Unfortunately, shows are not taking place here as of summer 2022 due to restoration work being done on the building. They have temporarily moved to the Sufi Center in Sultanahmet.
More information and tickets here.
DERVISH CEREMONY IN SULTANAHMET
Hosted near the Blue Mosque, this is another Whirling Dervish performance offered as part of the Les Arts Turcs Organisation. Shows are held everyday apart from tuesdays starting from 7pm.
Yuo can purchase your tickets from this link and this is the most economical ceremony that you can watch in istanbul for budget travellers.
Dervish Ceremony in Sultanahmet
For More information; Please contact info@lesartsturcs.com or +905442201022